Penthouses, Apartments and Duplex Deluxe front-line exclusive beach in the town of Estepona (Costa del Sol)
Doncella Beach presents itself as an indisputable expression of "exclusivity". A luxury alternative of the highest standard in quality, security and services. A careful selection of owners one of the main keys to this paradise away from the cliches of the Costa del Sol
Discover a new experience within reach of a few ... Take your place among the Gods in Doncella Beach.
Doncella Beach is located in one of the best areas on the Costa del Sol. Front-line exclusive beach and within the town of Estepona, this project is seduced day after day by the charm of the Mediterranean coastline.
Penthouses, Apartments and Duplex Deluxe front-line exclusive beach in the town of Estepona (Costa del Sol). From 650.000 to 3,500.000 €
Doncella Beach situated right on the shore-line of the blue Med orientated to the magical straits of Gibraltar which separate Europe and Africa. Comprising 85 comfortable apartments in seven elegant buildings following Neoclassical architecture in pure white, embracing the Mediterranean heart in form of its winding gardens, fountains, plazas, walk-ways and promenade.
Zeus: (Block. 1): God of the heavens and sovereign of the Olympic Gods. Protector of humanity. Presides over the rest and therefore has the only 5 suite Duplex Penthouses with private elevators.
Apolo: (Block. 2): God of the Sun, Light and Truth. Taught humanity the art of Medicine. Looks after the entrance and the well-being of all Doncella's inhabitants and therefore enjoys the special 4 suite apartments.
Hermes: (Block. 3): Good Luck and Abundance. Taught humanity the art of commerce. Enjoys the garden solarium and offers the two top floor deluxe apartments with private pools.
Poseidón: (Block. 4): God of the Sea and the Oceans also Protector of all sea travellers. Looking South-West towards the Straits of Gibraltar results in breathtaking sunsets.
Afrodita: (Block. 5): Goddess of Love and Beauty, born from Sea Spray this heavenly seafront location almost allows us to touch the pristine water.
Atenea: (Block. 6): Goddess of Art, Peace and Wisdom. Her symbol the olive tree represents strength and longevity. Therefore Atenea enjoys the exclusivity of only three apartments to each of its two entrance halls.
Artemisa: (Block. 7): Goddess of Nature and the Moon. Protector of all Maidens and Youth. This is an enchanting caprice with six spacious 1 suite apartments
All the buildings in Doncella Beach offer special characteristics thought out to satisfy the most demanding whether it be orientation, size, light, views, privacy or comfort.
Discover a unique life experience in the Costa del Sol.
Embracing the best that life has to offer Doncella Beach is refined and exquisite. A declaration of intentions which speaks out for itself from day-break to sunset. Without doubt the standard has been set, luxury services and lifestyle available only to a few and conceived as an ode to the senses.

• SIGHT.
An infinite fan of colours are to be seen daily at Doncella Beach be taken in by the Mediterranean blue, kilometers of golden sands, intense green in the elegant gardens and pure white which each morning invades every corner of this tranquil haven.

• SOUND.
Discover a new concept of sonotherapy the Mediterranean Sea.

• TASTE.
The sense of taste transcends all established horizons, empowered by a unique environment known as Andalusia. For connoisseurs, gourmets and lovers of fine cuisine.

• SMELL.
Be seduced by aromas which envelop Doncella Beach, carefully chosen flora in symbiosis with the neo-classical architectural design, enhance every corner with soft fragrances. Romance is in the air with the Mediterranean sea breeze, all senses are delighted.

• TOUCH.
Doncella Beach is undoubtedly orientated towards touch. .... materials, finishes, textures all carefully selected to create diverse ambiences in each apartment. Fine wood on the terraces contributes warmth to the cool feel of marble interiors and floors are just some of the true examples of a home conceived for the five senses.

Doncella Beach from its initiation was thought out as a fountain of life and creativity... a motor that day by day inundates with good vibrations all its inhabitants. A host of sensations enhancing a top quality way of life with an air of serenity for the priviledged few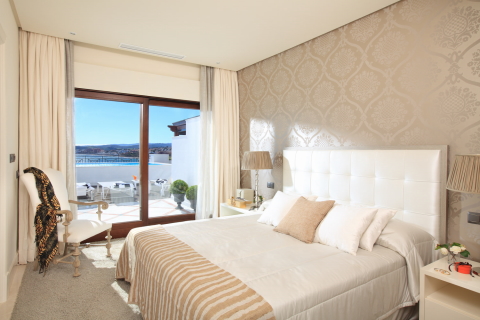 Maximum Security / A continuing priority in Doncella Beach.
Doncella Beach is situated only 50mts from the Municipal Police Station which is clearly an added bonus security wise and has a High Tech new generation Security System.
• All apartments have an alarm installation , security booth, numeric keypad and movement detectors in all rooms. Connected directly to the central security booth at the main entrance of the urbanization.
• Perimeter security cameras around the whole urbanization including garages: Controlled by a security guard 24 hrs 365 days a year and reinforced with night watchman.
• As a NOVELTY we introduce a VIDEO-ANALISIS system. All images are picked up by the cameras which are instantly detected and analyzed according to the pre-set program which automatically sets off the alarm.
• A Perimeter barrier system with lineal infrared rays protect all areas where the cameras do not reach. When the alarm goes off a deterrent blaze illuminates the spot.
• Pedestrian and vehicle accesses will all have a video intercom system which will function also with codified cards exclusively for owners and visitors. The cards can be programmed temporarily and according to the requirements the security guards will be in charge of replacing or canceling them.

Enjoy peace of mind in a luxury urbanization with high tech built-in security.
Building specifications / Discover one of the exclusive secrets of Doncella Beach


GENERAL
Front entrance security door.
Marble floors in cream nacre with 15cm skirting.
Acoustic insulation with wool fibre-glass between walls and floors and anti-impact "fompex".
Under-floor electric heating.
Air conditioning hot/cold.
Alarm and intercom-video porter connected to security control booth.
Satellite tv in all rooms.
Safety deposit box with electric key.
Electric blinds.
Telephone points and internet access incl bedrooms.
Light intensity dimmer in master bedroom and living area.
Built-in wardrobes fully lined and modulated.
Domotics- "konnex system" which controls lighting in master bedroom and living area. On/Off underfloor heating and air conditioning.
Smoke detector in kitchens.

BATHROOMS
Wall and vanity tops in travertino navonna marble.
Vanity cupboards lacquered in white.
Taps "hansgrohe".
Sanitary appliances "jacuzzi and "duravit".
Complete with all accessories.
Heated towel rails in master bathroom.
Master bathrooms in penthouse with hydromassage tub.
In separate shower.
Master bathrooms en-suite with hidro-massage.
Marble plaques on wall of 2.05m height in master bathrooms.

KITCHEN
Fully equipped with top quality siemens appliances.
Worktop in silestone Experience relaxation in the well-designed Spa Olimpia, where you can enjoy many pleasures like soaking in the jacuzzi, breathing cromatherapy in the turkish bath, cleansing in the sauna, special aroma-therapy showers and swedish bucket. Get energised in the gym with the most advanced cardiovascular machines or on the contrary meditate in total state of peace in the yoga room and all this by the super pool, marvelous solarium deck or afterwards with a cocktail at the the "pool bar"
ll the buildings in Doncella Beach offer special characteristics thought out to satisfy the most demanding whether it be orientation, size, light, views, privacy or comfort
ROOFING
Arabic roof tiles and flat roof solarium some in marble.

EXTERIOR CARPENTRY
Treated "iroko" wood with double glazing with 12mm camera climalit "BRAND- ROMAN CLAVERO".

PROOFING
Thermal proofing on outdoor and roof areas with polythene of 3 and 4 cm respectively.

TERRACE
Wood pergola in penthouses.
Floors combined in white marble macael with red alicante.
Tv points.
Infinity pool ( perimeter overflow) "portillo" with wave effect and cover.

IRRIGATION
In gardens and troughs all on automatic system.

OTHER ITEMS
Garage and storage included in the price.
7.500m2 of mediterranean landscaped gardens.
Community pool semi-olympic salt chlorinated.
Kids pool.
Spa with jacuzzi, sauna, turkish bath..
Gymnasium with cardio-vascular machines, yoga-relax area and kids club.
Outdoor summer pool bar.
Totally enclosed and gated with security cameras and main security control booth with vigilant and video analysis system.

EXTRAS
Possibility of glass enclosure on terrace.
Possibility of fireplace in penthouses.
ESTEPONA LUXURY APARTMENTS is an excellent illustration of luxury frontline beachside apartments of unique characteristics and in a perfect location: the Golden mile of Estepona. Here you can have you very own piece of paradise, your own oasis in a tranquil setting .Situated within Estepona's outskirts ESTEPONA LUXURY APARTMENTS offers convenience and peace-of-mind to its owners due to close by shopping facilities, port, police station, future hospital and other amenities. This magnificent urbanization offers luxury in the true sense with unique neo-classical architecture, spacious apartment homes combined with ultimate design, top class quality materials and enhanced with unbeatable views over the Mediterranean, African coastline and the rock of Gibraltar. ESTEPONA LUXURY APARTMENTS offers apartments and pent-houses from 1 to 5 bedrooms.
The panoramic views and sea breeze could easily be taken for granted as you leave your property and set foot onto the sandy beaches. With the yachting harbor of Estepona being just 2 minutes away with all the sailing and water sports it has to offer, you'll never tire of things to do. Leave the complex and you will find Estepona's public park right next door, a breath of fresh air if you wish to escape the sunshine and the sea! This development is just a short drive to local mountain ranges such as the Sierra Ronda where you will find tiny Spanish villages waiting to be discovered. Here you will sample true Spanish cuisine with traditional recipes handed down through the generations. The Selwo Safari Park is just a short drive too. They have over 200 species from 5 continents living in semi liberty, reasonably free to wander around. There's so much to see and do and of course, there are around 20 golf courses in the immediate area, all within easy access
Relax on site with our spa/yoga/gym facilities /kids club.
25 mts outdoor pool, wood deck and elegant gardens.
Direct access to the beach and future promenade.
More than three hundred days of sun, relax on spacious
terraces, enjoy magnificent sea views, close by sports facilities
and much more……
More than 20 golf courses less than 30 mins by car.

Yacht club less than 300 mts away with a project to increase an extra 400 berths.

50 minutes to Malaga International Airport and 30 minutes to Gibraltar Airport.

20 Minutes to Sotogrande

20 Minutes to Marbella and 15 minutes to Puerto Banus.
Quality Memory
The properties are built to the highest of standards and luxuriously finished with marble floorings, marble bathrooms, integrated top of the range appliances in the kitchens and under floor heating throughout. The properties all come with an alarm system connected to security control, video entry phone and hot / cold air conditioning. There are two swimming pools in the communal tropical gardens, including one for children and the gardens themselves are maintained to perfection. One garage for few cars is included in the price.
INTERIORS
• MAIN ENTRANCE SECURITY DOOR
• MARBLE FLOORS IN CREAM NACRE WITH 15CM SKIRTING.
• ACOUSTIC INSULATION WITH WOOL FIBRE-GLASS BETWEEN WALLS AND FLOORS AND ANTI-IMPACT "FOMPEX"
• UNDER-FLOOR ELECTRIC HEATING
• AIR CONDITIONING HOT/COLD
• ALARM AND INTERCOM-VIDEO PORTER CONNECTED TO SECURITY CONTROL
• SATELLITE TV IN ALL ROOMS
• SAFETY DEPOSIT BOX WITH ELECTRIC KEY
• ELECTRIC BLINDS
• TELEPHONE POINTS AND INTERNET ACCESS INCL BEDROOMS.
• LIGHT INTENSITY DIMMER IN MASTER BEDROOM AND LIVING AREA
• BUILT-IN WARDROBES FULLY LINED AND MODULATED
• DOMOTICS- "KONNEX SYSTEM"WHICH CONTROLS LIGHTING IN MASTER BEDROOM AND LIVING AREA ON/OFF UNDERFLOOR HEATING AND AIR CONDITIONING, CONTROL FOR THE VENETIAN BLINDS
• SMOKE DETECTOR IN KITCHENS
BATHROOMS
• WALL AND VANITY TOPS IN TRAVERTINO NAVONNA MARBLE
• VANITY CUPBOARDS LACQUERED IN WHITE
• TAPS "HANSGROHE"
• SANITARY APPLIANCES "JACUZZI AND "DURAVIT"
• COMPLETE WITH ALL ACCESSORIES
• HEATED TOWEL RAILS IN MASTER BATHROOM
• MASTER BATHROOMS IN PENTHOUSE WITH HIDROMASSAGE TUB AND IN SEPARATE SHOWER.
• MASTER BATHROOMS EN-SUITE WITH HIDRO-MASSAGE
• MARBLE PLAQUES ON WALL OF 2.05m HEIGHT IN MASTER BATHROOMS KITCHEN
• FULLY EQUIPPED WITH TOP QUALITY SIEMENS APPLIANCES
• WORKTOP IN SILESTONE
EXTERIORS
ROOFING
• ARABIC ROOF TILES AND FLAT ROOF SOLARIUM SOME WITH MARBLE EXTERIOR CARPENTRY
• TREATED WOOD "IROKO"WITH DOUBLE GLAZING AND 12MM CAMERA CLIMALIT " BRAND- ROMAN CLAVERO"
PROOFING
• THERMAL PROOFING ON OUTDOOR AND ROOF AREAS WITH POLYTHENE OF 3
AND 4 CM RESPECTIVELY TERRACE
• WOOD PERGOLA IN PENT-HOUSES
• FLOORS COMBINED IN WHITE MARBLE MACAEL WITH RED ALICANTE.
• TV POINTS
• INFINITY POOL ( PERIMETER OVERFLOW) "PORTILLO" WITH CROSS-CURRENT SWIM SYSTEM AND COVER IRRIGATION
• IN GARDENS AND TROUGHS ALL ON AUTOMATIC SYSTEM
OTHER ITEMS
• GARAGE AND STORAGE ROOM INCLUDED IN THE PRICE
• 7.500M2 OF MEDITERRANEAN LANDSCAPED GARDENS
• COMMUNITY POOL SEMI-OLYMPIC SALT CHLORINATED
• KIDS POOL
• SPA WITH JACUZZI, SAUNA, TURQUISH BATH.
• GYMNASIUM WITH CARDIO-VASCULAR MACHINES, YOGA-RELAX AREA
AND KIDS CLUB
• OUTDOOR SUMMER BAR- CHIRINGUITO
• TOTALLY ENCLOSED AND GATED WITH SECURITY CAMERAS AN MAIN SECURITY CONTROL CENTER WITH VIGILANT AND VIDEO ANALYSIS SYSTEM
EXTRAS
• POSSIBILITY OF GLASS ENCLOSURE ON TERRACE
• POSSIBILITY OF FIREPLACE IN PENT-HOUSES