Visit Malaga - tourism information - holidays Accommodation - Malaga Spain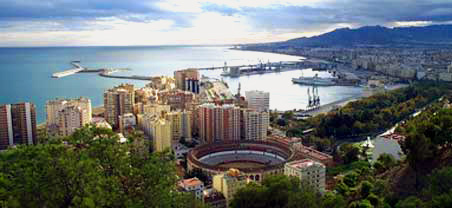 Welcome to Málaga, the capital of the famous Costa del Sol (Coast of the Sun).
Malaga, located on the southern coast of Spain, is home to the second largest Mediterranean port and enjoys average yearly temperatures of 23ºC (73ºF). It's a small city with a population of about 600,000, which creates a friendly, warm environment to learn Spanish.
Want more information about Malaga? Check out our handy Malaga travel guideto discover all that this sun-soaked Costa del Sol (Coast of the Sun) destination has to offer: what to do, things to see, when to go, interesting little facts and tid-bits and much more!
City, seaport, and holiday resort in southern Spain, on the Mediterranean Sea. Malaga is the center of the Costa del Sol, a major tourist region.Birthplace of Picasso, the attractive, cosmopolitan city of Malaga lies on a beautiful sweep of bay in Andalucia. Blessed with sunshine and a spectacular quality of light, Malaga is a city of wide boulevards, swaying palm trees, lively nightlife, good museums and excellent seafood restaurants.
The coastal area enjoys a privileged Geographical position: protected from the North winds by the mountains, it benefits from the highest average temperatures in Spain and over 300 days of sunlight per year. Rugged and irregular in the eastern part, with rocky projections of land that penetrate the sea, it is milder and sandier in the western area, with large beaches that make it one of the most developed parts of Andalusia, thanks to its demographic and tourist appeal
Pablo Picasso is the city's famous son (not counting Antonio Banderas of course!) and there are several galleries showing his work, including the 16th century Museum of Fine Arts, adjacent to the Cathedral.
His birthplace in Plaza Merced is today an archive of his life and works and open to the public; the entrance is absolutely free (so are all the services: Documentation Centre, exhibitions, museum, video projections...).
Museo Picasso Malaga openned a few years ago and is a moving experience of Picasso's lifetime of works. This has become one of Malagas prime attractions The museum is located in an old palace converted into an amazing art experience. It felt very natural and authentic. It must have been the doors and the roof which was done with lots of love and precision by the craftsmen. Seemed they all wanted to pay tribute to their fellow countryman and superior artist. The permanent collection is made up of donations of his grand son and his wife. It was amazing to see the quality of the brush stroke and the maturity of the compositions in works he painted at the age of 16. What is so amazing with Picasso is that there was nothing like him before and nothing like him after. Seeing it here concentrated gives a even greater respect for one of the greatest men of the 20th century.
Málaga's main theatre is the Teatro Cervantes where Antonio Banderas once trod the boards. He still visits.
Malaga boasts one of the highest concentrations of world class golf courses, to the extent that it is often dubbed "The Costa del Golf". For families there are theme parks, including water parks, go-karting, safari parks and many beautiful public gardens. For younger visitors the main areas of attraction are Benalmadena's Puerto Marina & '24 hour square' and Marbella's Puerto Banus. Both are very trendy and chic, but be warned the bars and clubs don't get busy until near midnight and stay open till dawn.
These days, Málaga prides itself on being a modern city with the heart of commerce dominated by Calle Larios which is the local Bond Street equivalent. This is the recommended place to start exploring the city as it is surrounded by attractive small streets and plazas, as well as the magnificent cathedral (Renaissance cathedral with a Baroque façade and choir by Pedro de Mena) which offers daily guided tours.
Garden lovers won't be disappointed in Malaga either. In the centre of the city is the beautiful Alameda Gardens, and just outside on the way to Antequera one finds the extensive Jardines de la Concepcion

Picasso's heirs - daughter-in-law Christine and grandson Bernard Ruiz-Picasso - donated more than 150 works to open this museum in 2003. It's quickly become one of Spain's most visited attractions. The collection takes a comprehensive look at every stage in Picasso's artist development, from early drawings to his famous Cubist masterpieces.
Alcazaba & Gibralfaro Castle
First, a Roman theater excavated just 55 years ago lies right at your feet. Continue on and you'll find the entrace to the Alcazaba, a Moorish fortress-palace dating as far back as 700 A.D. Above the Alcazaba towers the Gibralfaro Castle, the pinnacle of this captivating historical compound.
"La Manquita"
No trip to Málaga is complete with a visit to the city's beautiful and beloved cathedral, the Catedral de la Encarnación. Construction on the enormous edifice began after Spain's famed Catholic Monarchs - Fernando and Isabel - defeated the Moors and took back the city in 1487. However, in 1782 constructed was halted, leaving the cathedral with only one of its two intended towers, hence the nickname "La Manquita", or "the little one-armed lady".
Port & Playa la Malagueta
Malaga's port, the Mediterranean's 2nd largest, has been an important harbor for thousands of years. Just east, soak up rays on Playa la Malagueta, the main city beach just a few blocks from the bullring as well.
Enjoy the nightlife
Whether you're looking for a laid-back evening or a wild night that lasts 'til dawn, Málaga's has an active and eclectic nightlife scene that won't let you down. The most popular part of town for nocturnal revelers is centered around the streets and squares of Plaza de la Merced, Plaza de la Constitución, Calle Granada, Calle Alcazabilla, Calle La Malagueta and Calle Larios.