Marbella in the Future
Plans have been approved for a new marina in the Spanish resort of Marbella, designed to rival the appeal of nearby Puerto Banús.
"Thanks to a consortium led by Qatari Sheikh Abdullah ben Nasser Al-Thani, current owner of Málaga Football Club, the fishing port of La Bajadilla, 8km to the east of central Marbella, has been rubber stamped for a €400 million makeover," says Sarah Drane, managing director of the local marketing company Purple Cake Factory.
"Puerto Banus is the catwalk of the Costa del Sol," Drane told OPP this week, "attracting up to five million visitors each year."
And, despite the "915 berths" it offers for a huge flotilla of yachts and speedboats, Drane believes that the area is now "set to face some serious competition from a none-too-distant neighbour." The plans that have been drawn up for the new marina, show 500 berths arranged on a circular pier, pierced by a 200m-long quayside for cruise liners. There will be a waterfront five-star hotel as well as a raft of bars, restaurants and shops, all designed to catapult La Bajadilla into the spotlight. "With the Marbella Town Hall holding a 3% stake in the project, the marina is obliged to be 'emblematic' in order to attract elite clientele and is being billed as the most important urban development in Marbella's history," Drane told OPP.

"Puerto Banús has every reason to worry that one day it will be outshone." Local developer Hadleigh Bolt, Director of www.boltpropertygroup.com which builds luxury on the nearby La Zagaleta country estate, located 20km from Marbella, agrees. "I am a huge fan of Marbella and believe that it's symbolic of this prestigious coastline," he told OPP. "Marbella's Golden Mile is where it all began back in the 1950s when the five-star Marbella Club Hotel first opened its doors and today the area needs to up the ante to once more compete with the best resorts on the Côte d'Azur and Amalfi coastline." "This new marina is a great initiative and I believe it's a correct decision to create a fresh new landmark for Marbella rather than to simply remodel near-neighbour Puerto Banús." And, he added, "with the old industrial estate set to be demolished and the AVE high speed rail link destined to stretch to Marbella in the not too distant future – Port Al Thani will undoubtedly change the face of Marbella."

The developers have produced a video of the new marina scheme, which they have titled Port Al Thani in Marbella. If you would like to see it, go to YouTube - PROYECTO 3D AMPLIACION PUERTO DEPORTIVO.
MARBELLA
Marbella, the undisputed highlight of the Costa del Sol, is an exclusive Mediterranean resort town with some of the best beaches in Europe. Its beautiful parks and gardens, top-notch golf courses and picturesque old quarter, or "Casco Antiguo," make Marbella a relaxing yet stimulating place to learn Spanish
Welcome to Marbella! Excellent Mediterranean food, great beaches, elegant shops, a lively nightlife, fun water sports, leisure activities ... Marbella offers something for every taste and age!
Thanks to its geographical location in southern Spain and to the mountains surrounding the city, Marbella enjoys a unique climate. Temperatures are mild year-round, winters aren't freezing and summers aren't stifling. You can go to the beach practically every day from May to September!
From Marbella you can quickly and easily visit other Andalusian cities. Discover the Picasso Museum in Málaga, the impressive Mezquita in Córdoba or take weekend trips to the cities of Sevilla and Granada, truly two of the most beautiful cities in Spain
Marbella's Nikki Beach is a fabulous extension of the already established world –wide brand set in luxury locations such as St Tropez, St Barths, Hollywood and Miami. Here you will taste the finest foods, lounge on the most comfortable loungers and relax within Nikki Beach's unique and incredible atmosphere. It is basically a beach side paradise. Its easy to get to and for those arriving by boat there is even a dedicated boat transfer service.
For many years Marbella has been a favourite location for the rich and famous and is renowned worldwide as one of the most sophisticated and beautiful holiday destinations in Europe. It has everything to offer: beautiful beaches, mountains, fine dining, night life and even old world charm.
BEWARE, the cosmopolitan atmosphere can be intoxicating and can only be compared with other international resorts such as St Tropez and Monte Carlo
Marbella enjoys a wonderful climate thanks to the surrounding mountains which ensures temperatures are cooler in the summer and warmer in the winter than other areas of the Costa Del Sol, making this an ideal all year round destination for all ages.
The 27 kilometres of coastline around the Marbella area boasts a total of 24 beaches, many consist of fine golden sand which gently slopes into the sparkling waters of the Mediterranean Sea.
For a special day on the beach, why not visit one of the exotic beach clubs, you will find various activities during different days of the week - try the Nikki Beach Sunday afternoon party!! (Links for further information can be found in the "beaches" section of this site.
Old Town & Plaza de los Naranjos
Marbella's historic center, or "casco antiguo," is characterized by white-washed streets, historic churches and squares, and a growing number of boutiques and shops. Its core, the "Plaza de los Naranjos" (Orange Tree Square, circa 1485) contains 16th century structres like the town hall and a pretty chapel. Partially enclosed by an ancient Arab wall, this area is the perfect place to breath in Marbella's history while enjoying a refreshment at a terrace cafe.
The old town is said to attract the more discerning nightlife crowd than other areas, with its laid back atmosphere and typical Spanish bars although there are still plenty of clubs open until the early hours and is still a vibrant place to be.
As well as the glamour and glitz found along the coast, you will also find true Andalucían charm amongst the honeycomb of back streets in the old town.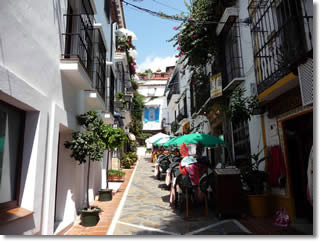 Marbella Old Town

Marbella Old Town
Once a small fishing village, this area dates back to the 16th Century.

One of the prettiest places is Plaza de los Naranjos (orange square)buzzing with activity day and night, surrounded by small shops, stately buildings, bars and bisros, it is also home to the Town Hall and Tourist Office where you can pick up a detailed map of the area and visitor information.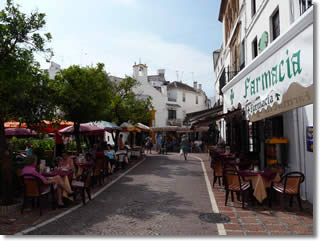 Orange Square

Orange Square

Paseo Maritimo Marbella
Back along the coast you can take a stroll along the Paseo Maritimo, one of the most delightful promenades on the Costa, lined with restaurants and bars, the paseo stretches all the way to Puerto Banus, some 6 kilometres!! It's a wonderful place to take a walk day or night, why not stop for a drink and watch one of Marbella's spectacular sun sets
Just about every sporting activity under the sun is available, world class tennis, sailing, diving, horse riding and of course golf, boasting more courses per square mile than anywhere else in Europe.
There are three pleasure craft harbours including the world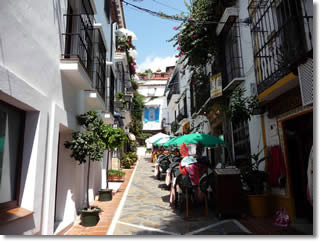 famous Puerto Banus, filled with some of the most glamorous yachts, shops and people in the world !
Pick a spot in a cafe during the day and watch the Ferraris, Porches and Bentleys parade along the quay side


Marbella Marina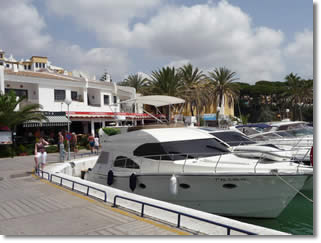 Cabopino

Cabopino
You will find an incredible array of bars and night clubs where you can dance until sunrise,or if you fancy a flutter why not try the nearby casino.
Puerto Banus is also a paradise for shopping and consists of El Corte Ingles, Spain's favourite department store. Marina Banus is an indoor shopping centre and has mainly Spanish shops,Zara, Berska, Massimo Dutti, then around Puerto Banus port you will find all the latest designer shops including Jimmy Choo,
Weather
Wedged between mountains and the sea, Marbella enjoys a pleasant micro-climate characterized by plenty of sun, little rain, mild winters and warm summers. It's no wonder the city attracts visitors from both Spain and abroad!
Shopping
Shopaholics beware! Known for its luxury-loving attitude about life, it's no surprise that swanky designer brands flank Marbella's streets. If a 500 euro purse just doesn't fit your budget, fret not; the city also has plenty of cute shops and eclectic markets where you can buy all sorts of goodies - fresh produce, clothes, spices, etc. - for less.
Beaches
Golden sand, blue sea, warm sun... life doesn't get much better than this. Marbella's stretch of Mediterranean coastline spans some 26 km (16 miles), and the surrounding Sierra Blanca mountains block strong winds, making for some of the best beaches in Spain.
Sports & Leisure
Marbella is famous for its luxury gyms, numerous tennis clubs and world-class golf courses. So when you're not soaking up the sun on the beach, hit the links, work up a sweat at the gym or show off your tennis serve.
Fun in the sun & surf
Marbella simply woudn't be Marbella without one thing: the beach! Grab a towel and some sunscreen and claim your patch of sand anywhere along the endless kilometers of golden beaches. Soak up the sun, take a swim, or partake in any of the range of watersports and aquatic activities available.
Enjoy a bit of Asia
Certainly one of Marbella's more peculiar offerings, the Museo del Bonsai (Bonsai Museum) makes for a surprisingly enjoyable visit... plus, it's free! The museum features one of the Europe's largest collections of these tiny, meticulously groomed trees. Adding to the distinctly Asian feel are lily ponds, streams, weeping willows and rock plantings.
Hit the links
Grab your clubs and drive, chip and putt your way through a few sunny hours. With nearly 50 pristine golf courses located within a 45-minute drive, Marbella is truly a golfer's paradise!
Bask in luxury... even if from afar!
From designer stores like Gucci and Armani to jaw-dropping celebrity homes, massive yachts and swanky restaurants, luxury is the name of the game in Marbella. For a real feel for the glitz and glamor, check out the famous "Golden Mile" linking Marbella with ritzy Puerto Banus, so-named in part for the stretch of golden sand and in part for the seafront mansions - vacation properties of the rich and famous - worth more than most of us folks can even dream about!
Take a seaside stroll
Marbella has a famous seaside promenade - the "Paseo Marítimo" - that hugs 6 kilometers of the city's spectacular coastline. With beautiful sea views and dotted with shops, palm trees and outdoor cafés, this Marbella favorite is an unbeatable spot for people-watching, strolling and enjoying coastal life.
NIKKI BEACH
What you should expect from Nikki Beach is total satisfaction. The service from the beautifully dressed staff is exceptional, the menu is fantastically creative and the decor is second to none, the modern white furniture is set off against the tall palm trees and white canopies. But what makes this beach club one of the best is the atmosphere and entertainment on offer, the parties can last all day and there are several events you should look out for during the summer including the Full Moon Party on the 11th of June starting at 10pm and Thursday night's Sintillate Marbella, whereby dinner is served by the beach followed by a late night party.
Nikki Beach Marbella is also renowned for serving up a great lunch! Every single summer the founder and owner of Nikki Beach brings his executive chef to Nikki Beach Marbella to oversee the kitchen. His 'simple' cuisine has been developed by dishes that have inspired him on his extensive travels and his creations are certainly a delight to eat and presented beautifully. Combine this with a nice bottle of champagne, wine or even a jug of their superb Sangria and it all results in a rather enjoyable lunch!!!

A wide variety of watersports are on offer and if this is not for you then we can guarantee you'll enjoy the simple pleasure of choosing a drink from their range of amazing cocktails and relax watching the kite surfers fly through the air